Project Salient
Rumanza is Pakistan's first Championship Signature 18-holes Golf Course. To translate the vision, "Center of Excellence," into reality, the Desert Group, which has a Solid Course construction experience, was employed.
Landscaping of course was done by Desert Ink with three themes is Desert, Aquatic and Woodland zones. The first South Punjab course to offer Night Golf and course where you can learn Golf through its professional Golf Academy.
Rumanza Golf & Country Club has developed an affiliation with IMG Prestige. IMG Prestige is an elite international network of courses that feature leading over 200 clubs from across the world. The network provides a valuable and unique benefit to each participating club's members, as they receive preferred access, special rates, benefits and privileges offered by other clubs and resorts in the network
---
Course is the first of its kind in Pakistan which have MUSCO lights to offer Night Golfing. The brightly lit fairways and greens give the golfers a chance to play late in the summer evenings.
Rumanza has been equipped with specially designed Eco Bunkers. It has a riveted edge in the line of play and grassy edges
---
Rumanza has been grassed over with Paspalum Platinum TE Grass to ensure speed and precision, which can resist even 40 Degrees heat without losing its color.
Rumanza is Pakistan's first golf course having automatic weather radar system which is linked with Rumanza irrigation system. It works with satellite and provides weather details (rain, temperature etc.) and based on this data adequate amount of water is release to maintain soil moisture, plants health etc. and minimize water lose
---
First of its kind Golf Academy in Pakistan where golfers can learn and improve their golfing abilities. The range is more than 300 yards, Lined with trees on both sides .
The Golf Club has a large lake alongside that offers an aesthetic view. The club will be a luxurious realm of multiple recreational activities including a fully equipped gym, spacious swimming pool, pro shop, spike bar, simulators, aerobic studio, joint lounge, café, and an Elite Club.
With a lakeside view, players can dine in the refined comfort of the multi-cuisine restaurant and relax at the Clubhouse lounge.
---
Pakistan's first Signature Golf Course Rumanza which have MUSCO lights that fully light up the holes and practice area during night time.
The Rumanza Golf course is the first in the south Punjab which offer Night Golf. The brightly lit fairways and greens give the golfers a chance to play late in the summer evenings, an escape from the high temperatures of the day.
The light poles are positioned to produce mesmerizing scenery without creating shadows or interfering with the ball trajectory.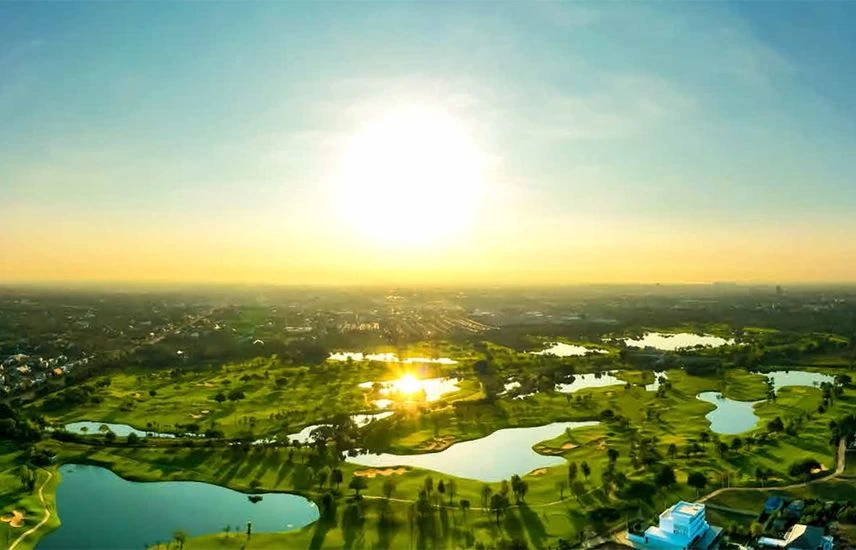 Rumanza has a sustainable World-Class Agronomy with Mango Orchards, Citrus Orchard, and Date Palms.
---
Adjacent to the 9th Green, Rumanza has a wonderful Mid way house for golfers to sustenance after first 9 Holes. Hot and Cold beverages will be served throughout the year.
---
It features an Automated Irrigation System of Rainbirds integrated with the Weather Station.
The water is used "efficiently" at the golf course through the use of the latest technology which reduces consumption to a minimum. Some of these practices are as follows
Use of hand syringing to provide accurate water distribution and minimize losses.
Effective use of overhead irrigation using automated irrigation systems which allows us to irrigate at times which will provide the best use of water and reduce losses due to wind and evaporation.
The ability to apply adequate amounts of water-based on field measurements to maintain soil moisture and plant health and minimize water loss and misuse.
Rumanza has four large lakes that will feature a gradually revealing peninsula. An Aeration system is used in lakes to improve the water and habitat.
---
Rumanza Golf & Country Club has state of the art Toro Equipment's for the maintenance of its course.
Original Dera walls have been retained and restored using traditional methods to ensure the course retains its unique identity of Multan.
---
The entrance of the Rumanza Golf Community depicts the modern living and esthetic lifestyle experience. The gated community is safe and secure, with 24 hours vigilance. Its modern architecture and luxe design highlight the active and elegant lifestyle of the community.
Near to DHA Multan Center Square, which will be a hub of commercial activities, including IT Tower, business hub, and a 5-star hotel.
Near to well-connected, finest road network such as Motorway and Northern Bypass.
Golf Course Architect Faldo Design (UK)
Construction Project & Landscape Design Desert Group (UAE)
Irrigation Designer & Consultant Aqua Turf Intl (Thailand)
Golf Lighting Syestem Musco-US
Intl Environmental Certification Geo Foundation,Scotland