Rumanza Golf & Country Club Local Rules
(To be read in conjunction with the Rules of Golf and any Temporary Local Rules)
OUT OF BOUNDS (Rule 18)
All ground outside the Club boundaries defined by fence posts/White Stakes
IMMOVABLE OBSTRUCTIONS(Rule 16)
All stakes defining GUR areas, and stakes (and/or guards) supporting staked trees/shrubs are deemed to be immovable obstructions.
GROUND UNDER REPAIR (Rule 16)
The following areas are defined as Ground Under Repair/Abnormal Ground Conditions:
When a sprinkler is operating, the area directly subject to the spray is deemed to be an abnormal ground condition.
Note: Desert waste areas are an integral part of the course. No relief without penalty is available from them unless a Local Rule applies or an immovable obstruction causes interference (Rule 16).
BUNKERS are defined by the Eco Bunker wall totally circumnavigating the Sand. Stones in bunkers are movable obstructions. (Rule 15) applies.
DISTANCE MEASURING DEVICES Players may obtain distance information by using a device that measures distance only.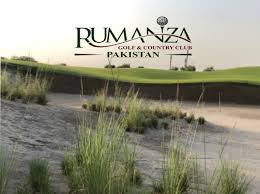 Facilities Around
Facilities
Mid-Way House Conveniently located at the 10th Tee, our relaxing mid-way house offers an Airconditioned area to enjoy light snacks and a wide range of beverages plus both Men's and Ladies' restrooms. In addition, adjacent to our 5th tee and 14th Tee a men's and lady's Rest room is available.
Driving Range Bays and Short Game Area Area "The more I practice the luckier I get" - Quote by Arnold Palmer, won 95 Professional Titles including 7 Major Championships.



Located adjacent to the Rumanza Golf & Country Club - Club House, the practice range has 28 undercover bays for daily use while the extensive grass tee is for retained Club Tournaments.The length of the Driving range is above 300 yards allowing for the full selection of clubs to be used.
The short game area includes dedicated putting and chipping/pitching greens where golfers can experience manicured conditions in line with the actual golf course conditions.
MUSCO Lighting System.Course is the first of its kind in Pakistan which have MUSCO lights to offer Night Golfing. The brightly lit fairways and greens give the golfers a chance to play late in the summer evenings.
Driving Range Lockers The Driving Range has Men , Ladies lockers with shower facility and is only available for Golfers
Driving Range Café. Specializing in the local Pakistan Cuisine but offering a wide array of menu choices representing both Asian and Western-inspired dishes, the Driving range café is open to the public and golfers alike. The 60 seat café's is also able to cater to private bookings.
Driving Range Pro Shop. Temporarily located at Driving Range.
Training
Caddy Training
Caddie Training Commenced on the 26th July 2021. After an extensive candidate screening process, RG&CC has been very fortunate to secure some extremely well-groomed, articulate candidates with a very good golfing background. Whilst the candidates have a golfing background, the training program for this caliber of a candidate is a 10-week program that consists of theory and practical training sessions. At the end of the 10 weeks the candidates will be required to sit a theory/practical exam to become a fully qualified Rumanza Golf & Country Club Caddie.
RG&CC is providing the highest quality of caddies that will without a question set the Benchmark for the golf industry not only in Pakistan but moreover South Asia as a whole.